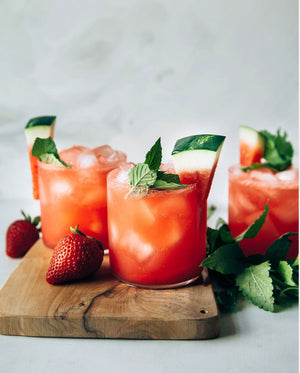 Watermelon Splash (16oz)
INGREDIENTS: Organic Seeded Watermelon, Organic Strawberries, Organic Lime, Organic Ginger, Wild Crafted Sea Moss Seamoss 
16oz
BENEFITS: 
•Cleanses the liver and kidneys 
•Protect against cancer and sicknesses 
•Anti-aging 
•Protects against cell damage 

•Boost your detoxification pathways

•Help strengthen your immunity
•Anti-inflammatory 
•Antioxidant 
KEEP REFRIDGERATED
RAW & COLD PRESSED 
NEVER PASTEURIZED
ALL ORGANIC INGREDIENTS LOCALLY MADE
NON GMO 
The Top 9 Health Benefits of Watermelon
Watermelon is a good source of antioxidants and nutrients. In addition to supporting hydration, it may also promote many aspects of health and prevent certain health conditions.
Staying hydrated is important for your body to function properly.
Body temperature regulation, normal organ function, nutrient delivery to cells, and alertness are only some of the bodily processes that rely on adequate hydration
 Watermelon comprises 92% water, making it a great choice for daily water intake. 

Watermelon contains a variety of nutrients, including potassium, magnesium, and vitamins A and C. It's also relatively low in calories. 
Watermelon is also a rich source of citrulline, an amino acid that may improve exercise performance. 
Plus, it boasts antioxidants, including vitamin C, carotenoids, lycopene, and cucurbitacin E. These compounds help combat free radicals, which are unstable molecules that may damage your cells if they accumulate in your body. Over time, this damage may lead to conditions like diabetes, heart disease, and cancer. 

Several plant compounds found in watermelon, including lycopene and cucurbitacin E, have possible anticancer effects.
Several nutrients in watermelon may support heart health. Studies suggest that lycopene may help lower cholesterol and blood pressure. It may also help prevent oxidative damage caused by high cholesterol levels. Watermelon also contains citrulline, an amino acid that may increase nitric oxide levels in your body. Nitric oxide helps your blood vessels expand, which lowers blood pressure. Other heart-healthy vitamins and minerals in watermelon include magnesium, potassium, and vitamins A, B6, and C. 


5. May reduce inflammation and oxidative stress.
the combination of antioxidants, lycopene, and vitamin C in watermelon may help lower inflammation and oxidative damage.
6. May help prevent macular degeneration
The watermelon compound lycopene may have benefits for your eyes. 


7. May relieve muscle soreness
Citrulline, an amino acid found in watermelon, may improve exercise performance and reduce muscle soreness. This compound helps expand blood vessels so that your heart doesn't need to work as hard to pump blood through your body. 
Vitamins A and C, which are found in watermelon, are important for skin health. 
Vitamin C — either when eaten or applied topically — helps your body make collagen, a protein that keeps your skin supple and your hair strong. 
Vitamin A is also important for healthy skin since it helps create and repair skin cells. 


Watermelon contains plenty of water and a small amount of fiber, both of which are necessary for healthy digestion.
Fiber helps keep your bowels regular, while water moves waste through your digestive tract more efficiently.