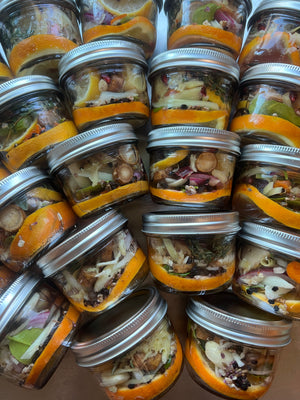 Fire cider
Fire Cider is an Apple Cider Vinegar tonic infused with superfoods and 30 vital ingredients. Our powerful apple cider vinegar tonic is the perfect addition to your daily wellness routine. There are so many health benefits to this ancient natural remedy to heal and protect your body, 
 In our specialty fire cider we add white and red onions, horse radish, jalapeños, garlic, ginger, turmeric, galangal (Asian aruvedic root), lemons, limes, lemon grass, oranges, rosemary, thyme, sage, burdock root, tarragon, fennel, oregano, lavender, mint, star anise, elderberry, all spice, echinacea, dandelion root, Birds Eye chili, keifir like leaves, sea moss, and raw apple cider vinegar.  
Health Benefits First and foremost, apple-cider vinegar is a great digestive aid. Horseradish is the number-one herb for combating sinus congestion and headaches. It clears your sinuses better than anything; even when you're just grating it, by the time you're done, your sinuses are wide open.

Fire cider is said to restore and invigorate one's system, and additionally, many claim it has benefits that include boosting energy, warding off colds and flus, easing sinus congestion, lowering blood sugar, curbing cravings, and aiding digestion. 


These are all handcrafted and formulated to help boost your immune system provide anti-inflammatory, antiviral, anti-microbial, antibacterial, and antioxidant properties to your body.
Fire cider is an ancient Asian, herbal tonic that helps improve digestion, boost immunity, prevent sickness and disease + also prevents the flu in the winter's. It is a natural antibiotic, anti-viral, anti-fungal anti-parasitic, anti-candida, immune strengthening and is a circulation booster. It is a tonic you should always have on hand, and it really does work wonders for a variety of ailments.
Each one of the fire ciders that I have created contains powerful herbs, roots, citrus, peppers, seeds, and more.!
We sell 8 oz of fire cider and that will last you 30 days. We recommend you take 1 tablespoon a day everyday. This is very potent so that is all you need each day first thing in the morning would be best for your body.  
KEEP REFRIGERATED