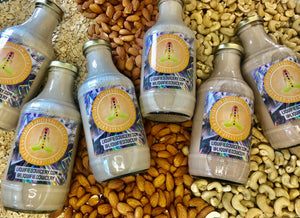 Coco Maca Cashew Mylk infused with Wild crafted Sea Moss and Superfoods
Ingredients:
Raw Organic Cashews, Organic Dates, Organic Cacao, Organic Maca, Wild Crafted Sea moss, Oil of Oregano, Organic Vanilla, Organic Agave, Organic Cinnamon, Filtered H2O  
BENEFITS OF OUR MYLKS
All of our mylks contain Adaptogens. 
"Adaptogens are herbal pharmaceuticals. They work to counteract the effects of stress in the body. Stress causes very real physical changes in the body, including harming the neurological, endocrine, and immune systems. Adaptogenshave stimulant properties that help counteract those harmful effects."
Nerve calming
Nutrient dense
Contain 102 vital nutrients 
Protein rich
Heart health 
Excellent source of omega 3s
Antioxidant rich
Protects nerves 
Iron rich
Fight free radicals
Rich in magnesium 
Meal replacement 
Benefits of Maca:
There is a range of potential benefits of maca root, including:
Increasing libido. Share on Pinterest Studies suggest that maca root may help increase libido
Reducing erectile dysfunction
Boosting energy and endurance
Increasing fertility
Improving mood
Reducing blood pressure
Reducing sun damage
Fighting free radicals
Benefits of Cacao:
Cacao powder is packed with flavonoids. These nutrients that have been shown to help lower blood pressure, improve blood flow to the brain and heart, and aid in preventing blood clots. The flavonoids in cacao powder may help increase insulin sensitivity, reducing your risk of diabetes
WHAT IS OIL OF OREGANO?:
Oregano contains compounds called phenols, terpenes, and terpenoids. They have powerful antioxidant properties and are responsible for its fragrance.
Carvacrol. The most abundant phenol in oregano, it has been shown to stop the growth of several different types of bacteria. 


Thymol. This natural antifungal can also support the immune system and protect against toxins. 


Rosmarinic acid. This powerful antioxidant helps protect against damage caused by free radicals. 
These compounds are thought to underlie oregano's many health benefits.
Here are 9 benefits and uses of oregano oil.
Natural antibiotic
May help lower cholesterol
Powerful antioxidant
Could help treat yeast infections
May improve gut health
May have anti-inflammatory properties
Could help relieve pain
May have cancer-fighting properties
May help you lose weight
WHAT IS SEA MOSS? 
Sea moss is a Caribbean Moss that contains 92 of the 102 vital nutrients our bodies are comprised of. These include zinc, calcium, potassium, magnesium, ect. Sea moss is packed with these vital nutrients that the body can absorb and thrive from.